LEGO Indiana Jones: The Original Adventures - Characters & Abilities
The first LEGO Indiana Jones game has 83 unlockable characters: 79 regular characters and 4 secret characters. There are also 2 characters you can create and customize yourself and 6 special characters only available in certain levels in Free Play. The various characters possess different abilities, which make them useful for overcoming specific obstacles, solving certain types of puzzles, etc.
When you begin each level in Story Mode, you'll have control over Indiana Jones and at least one other character. If you're playing alone, you can toggle between the available characters by pressing the Free Tag button. If you're playing with a friend, you'll each control one character.
| | |
| --- | --- |
| | Some characters are unlocked automatically as you complete each level in Story Mode. Some become available after finishing a level but must be purchased in the Library at Barnett College before they can be used. A few secret characters are unlocked in special ways (below). |
In addition to basic abilities, such as running, jumping, fighting, carrying objects, smashing, building, etc., some characters have special abilities that enable them to do things others can't. Indiana Jones has unique abilities based on his whip. The 9 special abilities are as follows:
Academic – Characters with this ability can solve hieroglyph puzzles. Some, like Marcus Brody and Henry Jones Sr., are scholars who have this ability innately. Other characters can gain this ability temporarily by picking up special blue books.
Enemy Access – Certain areas can only be entered by enemy soldiers. When a character with this ability approaches a guard post and knocks, he will be allowed inside. Other characters can gain this ability temporarily by picking up a military-style hat from a defeated enemy and wearing it as a disguise.
Excavate – Characters with this ability, like Satipo and Sallah, always carry a shovel. They can dig in the ground to unearth buried objects. Some levels include shovels that any character can pick up. Only certain special areas can be excavated. These are indicated by sparkling areas on the ground. When you see one of these, stand near it holding a shovel and press the Use button to dig.
Explosive – Characters with this ability carry special explosive weapons, such as bazookas or grenades. In addition to being super powerful in combat, these weapons can blast through silver LEGO objects that can't be destroyed any other way. Regular characters can only do this by finding special weapons or dynamite.
Glass Breaking – Willie Scott is the only character with this ability. Using her high-pitched scream, she is able to shatter windows and other glass objects. If you haven't unlocked her yet, you can also use a character with explosives to break glass; however, the glass-breaking ability won't affect metal.
Mechanic/Repair – Characters with this ability carry a wrench all the time. They can use it as a weapon, but it also comes in handy for fixing broken machines. Some, like Jock and Captain Katanga, have this ability innately. Other characters can gain it temporarily by picking up a wrench. Then just approach a machine with smoke and sparks emanating from it and press the Use button.
Small Size – A few characters are able to fit through special small openings due to their tiny size. There is no way for larger characters to use this ability.
High Jump/Super Jump – All female characters have the ability to jump higher than their male counterparts. In a few areas, trampolines and awnings allow any character to reach higher areas, but women are always better jumpers. A swirling flower marker on the ground indicates that a high jump is required.
Thuggee Chant – In the Temple of Doom levels, you'll encounter various cultists known as Thuggees. They have the ability to activate Kali statues. Other characters can use this ability if they are wearing a Thuggee turban, obtained by defeating certain Thuggees.
Characters for Free Play [jump to top]
The first time you play each level in Story Mode, you'll notice some areas that are not accessible with the characters you have. In order to get 100% completion, you'll need to go through each level again in Free Play Mode mode. The walkthroughs indicate which character abilities are needed to access all areas.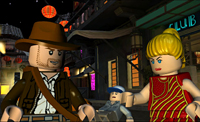 When replaying a level in Free Play, you'll choose your main character from among those you've unlocked so far. Then the game selects a group of characters with varying abilities to support your main. You'll still have control over only two characters at any time, but you'll be able to toggle either character to any member of the group. The more you play, the more characters you'll unlock, and the better selection you'll have for Free Play.
To make sure you have all the skills you need, try to unlock at least one character with each special ability early on. For example, if you play the first two levels of the Raiders of the Lost Ark storyline, the first two levels of the Temple of Doom and the first level of the Last Crusade, you'll unlock all but two abilities (Explosive and Thuggee) for free. Then you only need to purchase two characters to fill in the gaps. Or, create a Custom Character with those abilities and you won't have to spend a stud.
Whip – One character in the group will always be Indiana Jones, so you'll never be without this ability.
Academic – Brody or Elsa (free after Crusade level 1)
Enemy Access – Bazooka Trooper (30,000 studs after Raiders level 2)
Excavate – Satipo (free after Raiders level 1)
Explosive – Bazooka Trooper (see Enemy Access, above)
Glass Breaking – Willie (free after Temple level 1)
Mechanic/Repair – Jock (free after Raiders level 1)
Small Size – Short Round (free after Temple level 1) or Maharajah (40,000 studs after Temple level 2).
High Jump – Marion (free after Raiders level 2), Willie (see Glass Breaking, above) or Elsa (see Academic, above)
Thuggee – Maharajah (see Small Size, above)
Refer to the Character List below for more options.
NOTE: There are two levels where you'll need characters with particular weapons for Free Play: a gun for Raiders level 5 and a sword for Crusade level 6. By the time you get there, you should have no problem purchasing the necessary characters.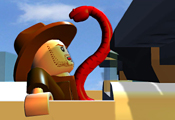 Certain characters have fears that prevent them from entering particular areas. For example, as anyone who's seen the movies knows, Indiana Jones is afraid of snakes. Both Henry Jones Sr. and Elsa are repelled by rats, and Willie is creeped out by creepy-crawlies. When you come to an infested area, find a flaming torch to clear the critters from your path, use a different character to hit them, or find another way around.

To create your own custom characters for use in Free Play, go to the Art Room at Barnett College and approach the LEGO minifigs on the pedestals. When a minifig is selected, press Left/Right to rotate the icons at the bottom of the screen. Then press Up/Down to cycle through the different options for that icon (e.g., hat, head, tool/weapon, torso, legs, etc.). Note that whichever tool or weapon you select, the custom character will also have a whip. The dark silhouette with the question mark generates a random character. The chalkboard with 'ABC' icon allows you to change the character's name. The two silhouettes with the arrow lets you switch to the other custom figure. When you've created the perfect character, use the car icon to exit.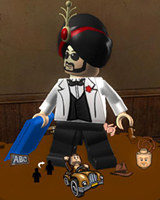 Custom LEGO Character
Mr. AwesomeYou can run around the art room as that character, but you can't leave. To exit, return to the podium in order to switch back to your main character. Then leave the room.
Now, whenever you begin a level in Free Play mode, you can choose either of your custom characters as your main. These are the two dark silhouettes at the bottom right corner of the Free Play character selection screen.

TIP: Create a custom character with special abilities by equipping her or him with the right tools and/or headgear. For example, a character with a blue book wearing the turban with the gold decoration will have both Academic and Thuggee abilities (like my character, Mr. Awesome, here). Then you can use those abilities in Free Play without having to buy a special character from the Library or unlock them in Story Mode.
The following list covers all available characters. It includes each character's name, weapon (if any), special ability (if any), the level in which they are unlocked and their cost in studs. If a character is unlocked for free following the Story Mode level in which they appear, then the cost column says "Story". To avoid printing spoilers for players who like to discover things on their own, the unlockable secret characters are included in a separate, hidden section below.

Name
Weapon/Tool
Ability
Unlocked
Cost
Bandit
Shovel

Excavate

Well of Souls
15,000
Bandit Swordsman
N/A
N/A
City of Danger
25,000
Barranca
Pistol
N/A
Lost Temple
18,000
Bazooka Trooper (Crusade)
Bazooka

Enemy Access

and

Explosives

Castle Rescue
30,000
Bazooka Trooper (Raiders)
Bazooka

Enemy Access

and

Explosives

Into the Mountains
30,000
Belloq
N/A

Academic

Well of Souls
50,000
Belloq (Jungle)
N/A

Academic

Lost Temple
50,000
Belloq (Robes)
N/A
N/A
Pursuing the Ark
50,000
British Commander
Pistol
N/A
Battle on the Bridge
30,000
British Officer
Pistol
N/A
Battle on the Bridge
25,000
British Soldier
Pistol
N/A
Battle on the Bridge
18,000
Brody
N/A

Academic

Hunt for Sir Richard
Story
Captain Katanga
Wrench

Repair

Pursuing the Ark
18,000
Chattar Lal
N/A

Thuggee

Pankot Secrets
40,000
Chattar Lal (Thuggee)
N/A

Thuggee

The Temple of Kali
40,000
Chen
Machine Gun
N/A
Shanghai Showdown
18,000
Colonel Dietrich
Pistol

Enemy Access

Into the Mountains
50,000
Colonel Vogel
Pistol

Enemy Access

Trouble in the Sky
50,000
Dancing Girl
N/A

High Jump

Shanghai Showdown
27,500
Donovan
N/A

Academic

Temple of the Grail
50,000
Elsa
N/A

Academic

and

High Jump

Hunt for Sir Richard
Story
Elsa (Desert)
N/A

Academic

and

High Jump

Desert Ambush
15,000
Elsa (Officer)
N/A

Academic

and

High Jump

Motorcycle Escape
15,000
Enemy Boxer
N/A
N/A
Pursuing the Ark
25,000
Enemy Butler
N/A
N/A
Castle Rescue
15,000
Enemy Guard
Pistol

Enemy Access

Opening the Ark
18,000
Enemy Guard (Mountains)
Pistol

Enemy Access

Into the Mountains
30,000
Enemy Officer
Hand Grenade

Enemy Access

and

Explosives

City of Danger
30,000
Enemy Officer (Desert)
Hand Grenade

Enemy Access

and

Explosives

Well of Souls
30,000
Enemy Pilot
Pistol
N/A
Trouble in the Sky
25,000
Enemy Radio Operator
Pistol

Enemy Access

Castle Rescue
25,000
Enemy Soldier
Pistol

Enemy Access

City of Danger
18,000
First Mate
Wrench

Repair

Pursuing the Ark
12,500
Grail Knight
Sword
N/A
Temple of the Grail
100,000
Henry Jones Sr.
N/A

Academic

Castle Rescue
Story
Hovitos Tribesman
Spear
N/A
Lost Temple
18,000
Indiana Jones
Whip
N/A
Lost Temple
Story
Indiana Jones (Army Disguise)
Whip

Enemy Access

Opening the Ark
Story
Indiana Jones (Desert)
Whip
N/A
City of Danger
Story
Indiana Jones (Desert Disguise)
Whip
N/A
Well of Souls
27,500
Indiana Jones (Dinner Suit)
Whip
N/A
Shanghai Showdown
Story
Indiana Jones (Kali)
Whip
N/A
The Temple of Kali
Story
Indiana Jones (Officer)
Whip

Enemy Access

Motorcycle Escape
1,500
Indiana Jones (Professor)
Whip
N/A
Hunt for Sir Richard
Story
Jock
Wrench

Repair

Lost Temple
Story
Jungle Guide
Pistol
N/A
Lost Temple
18,000
Kao Kan
Machine Gun
N/A
Shanghai Showdown
25,000
Kazim
Pistol
N/A
Hunt for Sir Richard
30,000
Kazim (Desert)
Pistol
N/A
Desert Ambush
30,000
Lao Che
Machine Gun
N/A
Shanghai Showdown
19,000
Maharajah
N/A

Thuggee

and

Small Size

Pankot Secrets
40,000
Major Toht
Pistol

Enemy Access

Into the Mountains
50,000
Marion
N/A

High Jump

Into the Mountains
Story
Marion (Cairo)
N/A

High Jump

City of Danger
Story
Marion (Evening Dress)
N/A

High Jump

Well of Souls
Story
Marion (Nightgown)
N/A

High Jump

Opening the Ark
Story
Masked Bandit
Sword
N/A
City of Danger
18,000
Mola Ram
Super Slap

Thuggee

Battle on the Bridge
50,000
Monkey Man
N/A
N/A
City of Danger
27,500
Pankot Assassin
Sword
N/A
Pankot Secrets
25,000
Pankot Guard
Spear
N/A
Pankot Secrets
18,000
Sallah (Desert)
Shovel

Excavate

Well of Souls
Story
Sallah (Fez)
Shovel

Excavate

Desert Ambush
Story
Satipo
Shovel

Excavate

Lost Temple
Story
Sherpa Brawler
Pistol
N/A
Into the Mountains
18,000
Sherpa Gunner
Machine Gun
N/A
Into the Mountains
25,000
Short Round
N/A

Small Size

Shanghai Showdown
Story
Slave Child
N/A

Small Size

Free the Slaves
3,000
Thuggee
Sword

Thuggee

The Temple of Kali
18,000
Thuggee Acolyte
N/A

Thuggee

The Temple of Kali
30,000
Thuggee Slave Driver
N/A

Thuggee

Free the Slaves
18,000
Village Dignitary
N/A
N/A
Pankot Secrets
15,000
Village Elder
N/A
N/A
Pankot Secrets
15,000
Willie
N/A

High Jump

and

Glass Breaking

Shanghai Showdown
Story
Willie (Ceremony)
N/A

High Jump

and

Glass Breaking

Free the Slaves
Story
Willie (Dinner Suit)
N/A

High Jump

and

Glass Breaking

Pankot Secrets
15,000
Willie (Evening Dress)
N/A

High Jump

and

Glass Breaking

Pankot Secrets
15,000
Willie (Pajamas)
N/A

High Jump

and

Glass Breaking

Pankot Secrets
Story
Wu Han
Machine Gun
N/A
Shanghai Showdown
20,000
Special & Secret Characters [jump to top]
There are several secret characters in LEGO Indiana Jones. To show/hide information on how to unlock them, click here. (Javascript-enabled browser needed.)